What's boiling?


THE SELECTER & THE BEAT WARM UP & AFTERPARTY
27 October 2017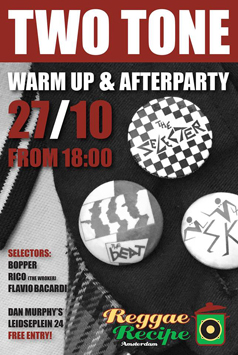 Calling all Rude Boys and Rude Girls!
Celebrating tonights sold out double header featuring The Selecter & The Beat we're throwing a party at Dan Murphy's, just around the corner of De Melkweg.
We'll be spinning 2-Tone classics, early Jamaican scorchers that were their inspiration as well as solid contemporary tunes influenced by the 2-Tone era.
Vinyl only of course!

ENJOY!


4TH REGGAE RECIPE INTERNATIONAL WEEKENDER
15-16-17 June 2018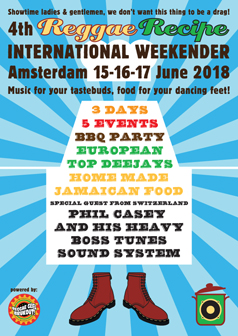 And it's that time of the year again, 3rd weekend of June.
When all reggae trains, flights and paths lead to Amsterdam!
Come celebrate our 13th anniversary in our beautiful town, enjoying great music selections, cocktails, free home made Caribbean food and, hopefully, some nice weather too!

Click here for more info.

ENJOY!





"Showtime ladies & gentlemen, we don't want this thing to be a drag!"



Is there really no life outside the stereotyped image of reggae?
And is 'Amsterdam Reggae City' nothing more than a 'coffeeshop thing for ganja tourists'?
We don't believe it.
And that's the reason why we're here.

Tasteful grub for your dancing feet, serving you the sauciest period in Jamaican music: from the late fifties to the early seventies.

But also music for your mouth, treating our guests with irresistible (finger)food from the Caribbean tradition.

ENJOY!

Like us on Facebook for more pictures and stories

Click here for contact and inquiries